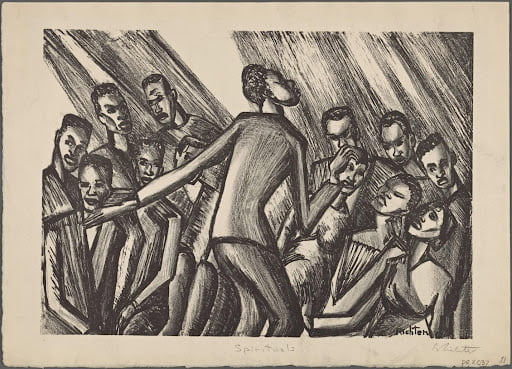 Sunday, September 25 at 3pm
Performance is FREE and Open to the PUBLIC
The Chattanooga Spiritual Ensemble will give its second performance this Sunday at 3 pm in the live acoustic of First Christian Church, 650 McCallie Avenue. The group, founded in 2021 by Artistic Director Harv Wileman, is a 30-voice semi-professional ensemble of singers from greater Chattanooga, Nashville, and Atlanta and will sing choral and solo arrangements of African-American spirituals by an array of Black composers past and present, including Margaret Bonds, Lee Cloud, R. Nathaniel Dett, Jacqueline Hairston, Moses Hogan, Undine S. Moore, and William Grant Still. Selections by living legend Roland Carter, a mentor to former student Wileman and many others in the group, will also be performed.
"Spirituals are uniquely American art form, says Wileman. "The classically-trained Fisk Jubilee Singers in Nashville were the first group to bring choral arrangements of spirituals to a national, then international audience, and the concert tradition continued to flower and be refined at other HBCUs until we now have a living repertoire, ever growing and ubiquitous on concert programs on concert stages, schools, and churches around the world of numerous denominations. They unite audiences with their mix of deep feeling, wit, musicality, humanity, and divinity."
Several singers within the ensemble will step out to offer solo spiritual arrangements for piano and voice, including local favorites Neshawn Calloway, known equally as a jazz and blue stylist and classical mezzo-soprano; male sopranist Jeron Devonté (himself the founder of the BATTLE Association); and baritone Vincent Hale, alumnus and Dean of Fine Arts at the Chattanooga High School Center for the Creative Arts. "I also wanted to feature vocal music by Black composers in other genres," says Wileman. LaFrederick Thirkill solos with the chorus in a number from Treemonisha, the first known opera by an African-American, Scott Joplin, best-known as the creator of ragtime, which was never produced in his lifetime.
"Several years ago the Chattanooga Choral Society produced the first fully-staged production in Tennessee, and LaFrederick recreates part of his role here." The opera Margaret Garner, premiered in Detroit in 2005, was composed by Richard Denielpour, not a Black composer, but the libretto was written by Toni Morrison and based on her Pulitzer-Prize-winning novel Beloved. Tess Varlack, a graduate student at Lee University sings one of the key arias of its protagonist. Though Wileman founded and leads the group, no fewer than nine local conductors, including Calloway, Hale, Devonté, Michael Ake of The McCallie School and Michael Mitchell of the Chattanooga Choral Society, will step out of the ensemble to lead a number. "There is so much highly-trained talent in this community that it makes sense to give the musicians every opportunity to use this group as a kind of 'professional development' for their careers as both performers and educators," explains Wileman.
Other soloists include Atlanta opera singers Kayla Wilson and Aja Brimm and former Chattanoogan Nicole Ellis, now living in Nashville. Five upperclass voice majors from Chattanooga High Center for the Creative Arts, students of Calloway's, will also rehearse and perform as part of the group. "Giving the next generation of performers an opportunity to work alongside the professionals as peers is also part of the mission of the group," says Wileman. The Chattanooga Spiritual Ensemble is under the aegis of Voices of The Southeast, Inc. a 501(c)(3) non-profit organization based in Chattanooga. The concert is made possible by a grant from ArtsBuild, private donations, and the partnership of First Christian Church. The performance is free and open to the public.