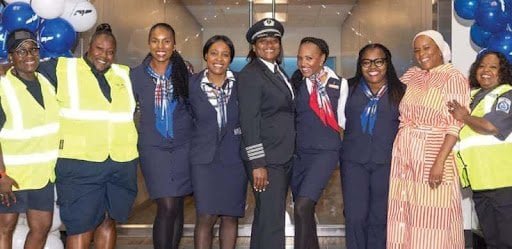 By Camm Ashford 
To honor the 100th anniversary of Bessie Coleman, the first Black woman to earn a pilot's license, American Airlines operated a flight out of Dallas with an all-Black, all-female crew.
From the pilots and flight attendants to cargo team members and aviation maintenance technicians, the Bessie Coleman Aviation All-Stars operated and took charge of every aspect of the historic flight from Dallas to Phoenix.
"Of course, I was honored and humbled when I was invited to participate in the all-Black female crew assembled to honor Ms. Coleman's legacy," said Customer Service Agent Denise Ashford. "The organizers have vowed to keep her memory alive through a diversity and inclusion organization. We will be discussing our experience with the Bessie Coleman project as well as challenges we face as Black women in aviation."
Additionally, the historic 737 flight crew included
Beth Powell, pilot, and First Officer Charlene Shortte. Coleman's great-niece, Gigi Coleman, was also aboard the flight to help celebrate her legacy.
Elizabeth "Bessie" Coleman was born on Jan. 26, 1892. The 10th of 13 chidren who were a family of sharecroppers in Texas, Coleman worked in the cotton fields at a young age while also studying in a small segregated school.
With the encouragement of Robert S. Abbott, publisher of the Chicago Defender, Coleman learned French and saved up money from her work, first as a manicurist and then a manager of a chili parlor. In November 1920, she gained entrance into the Caudron School of Aviation in Le Crotoy, France.
On June 15, 1921, Coleman obtained her pilot's license from the Fédération Aéronautique Internationale, and after some additional training in Paris, she returned to the United States in September 1921.
With the age of commercial flight still a decade or more in the future, Coleman quickly realized that in order to make a living as a civilian aviator she would have to become a "barnstorming" stunt flier, and perform for paying audiences.
Committed to promoting aviation and combating racism, she used her influence in the following years to encourage other African Americans to fly–even refusing to perform air shows at locations that would not admit African Americans.
"Queen Bess," as she was known, died tragically on April 30, 1926, at age 34, preparing with another pilot for an air show that was to take place in Jacksonville, Fla. that day. At 3,500 feet, an unsecured wrench got caught in the control gears, causing her Curtiss JN-4 (Jenny) plane to crash. Coleman, who was not wearing a seatbelt, fell to her death.
While there was little mention in most media, news of her death was widely carried in the African American press. Ten thousand mourners attended her ceremonies in Chicago, which were led by activist Ida B. Wells.
"She bravely broke down barriers within the world of aviation and paved the path for many to follow," the airline said of Coleman in a written statement .
Ashford said the airlines is being intentional in its efforts to diversify the flight deck, and "dedicated to increasing the numbers of female African American pilots."
Black women have been "notably underrepresented in the aviation industry," she noted.
Black women currently represent less than 1% in the commercial airline industry.
Customer Service Agent Denise Ashford was part of an All-Black female crew that helped operate an American Airlines flight from Dallas to Phoenix paying tribute to trailblazer Bessie Coleman.