By Robin Smith 
At Nashville's oldest institution of higher learning, Fisk University, a new twist has been added on campus. History was made this school year as the 156-year-old university in March launched the first ever women's gymnastics program at an institution carrying the HBCU (Historically Black College and University) designation.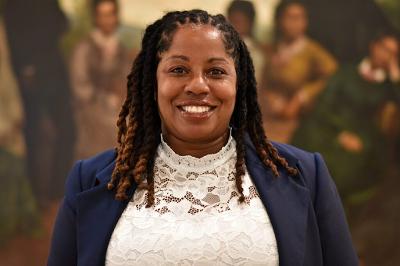 Corinne Wright Tarver, known as the first Black gymnast to win an NCAA all-around title in 1989 while at the University of Georgia, was promoted to lead the entire Fisk University Athletic Department in July and wasted no time to make her mark.
In a July 6, 2022 university press release, Tarver declared, "With all the great things that have taken place at Fisk in the past and the incredible things that are in the works now, I embrace the opportunity to move us forward with respect to our presence in the athletics landscape."
Tarver led the Fisk team in its first practice on Aug. 8, not even two months after her taking the reins at Nashville's historic university, founded in 1865, just over six months after the end of the Civil War and only two years after President Abraham Lincoln's signing and implementation of the Emancipation Proclamation by three men–John Ogden, the Rev. Erastus Milo Cravath and the Rev. Edward P. Smith.
The excitement of this "first" placed the team of talented women in the spotlight on social media. Lifelong gymnast, Zyia Coleman, an incoming freshman, described to FoxNews Digital that it was "breathtaking" to be part of the moment while enthusiastically stating at the first practice, "We're making history."
Coleman began competing in gymnastics at the tender age of five and admits that HBCUs had not been on her list of possibilities for higher education until Fisk launched its program.
"When you think of HBCUs, you think of the band, the great music, the majorette team. When you think of HBCUs in the future, you're going to think of gymnastics," said the 18-year-old in the Fox Sports interview.
Coach and Athletic Director Tarver noted that the program was "long overdue," but also saw the opportunity for the addition to "take it to the next level," relative to Fisk University Sports.
Observing the lively practice, she admitted they've gone straight to "the deep end" of the metaphorical pool to compete and succeed. The women's team is expected to compete against women's teams from George Washington University, Towson University and the University of Michigan in the 2022-23 season.
Tarver has a distinguished 30-year career which includes leading at Syracuse University and the University of Pennsylvania. She began in women's collegiate sports as a Georgia Bulldog, and now she'll continue her success and leadership with the Fisk University Bulldogs.
Tarver's leadership will open doors and greater opportunities as Fisk University commits to growth.