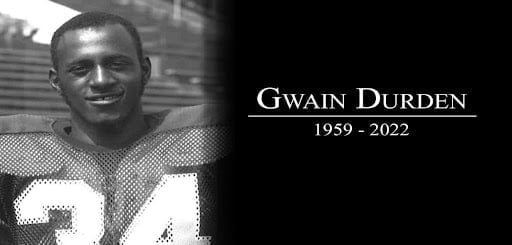 CHATTANOOGA—Gwain Durden, the Chattanooga Mocs second-leading rusher all-time, passed away last week at the age of 62. Durden (1959-2022) most recently resided in Vidalia, Ga.
He burst onto the scene in 1977 with a 1,000-yard freshman campaign. Durden and fellow freshman Mike Smith Combined for 2,112 yards that initial tour of the Southern Conference with 1,045 coming from the native of Lyons, Ga., starring at Reidsville High School. They still rank as the only freshman pair in DI history to both run for 1,000 yards in the same season. It has not been done in either FBS or FCS since Division I split in 1978 into those common monikers of today.
The duo amassed 7,026 yards over their four years together leading the Mocs to a 33-9-2 mark and three straight SoCon titles in 1977, 1978 and 1979. Durden finished his career as the school's all-time leading rusher with 3,686 yards. It was later eclipsed by current tight ends coach and former quarterback Jacob Huesman in 2015 finishing with 4,051 rushing yards. Durden ranks 31st all-time in NCAA Division I history with 6.8 career yards per carry. That's among impressive company finishing three spots ahead of Barry Sanders (Oklahoma State).
Durden was named to the Mocs' All-Century team in 2003. He was inducted into the UTC Athletics Hall of Fame in 1988. A story on his life can be found here. His family is hosting a visitation Friday, July 15, from 5-7 p.m., at Vidalia Funeral Home. The funeral service is Saturday at 2 p.m., at the First African Baptist Church, also in Vidalia.