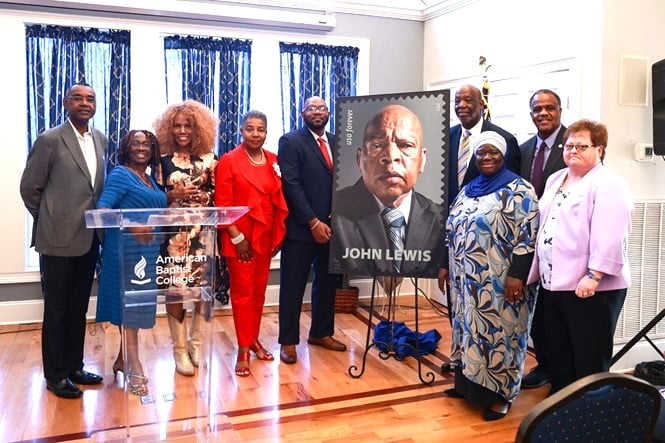 NASHVILLE, TN — The John Lewis Way Committee, the USPS, government and community leaders, civil rights icons, and others joined American Baptist College's administrators, students and staff on Thursday, August 24, for the city of Nashville's celebration of the U.S. Postal Service's first-class 'Forever' stamp honoring ABC alumnus and former U.S. Representative John Lewis. In the words of Metropolitan Nashville Davidson County Council Member At-Large Zulfat Suara, chair of the John Lewis Way Committee, it was "a historical moment, on a historical day, for a historical man."
"It's a privilege to represent the women and men of the U.S. Postal Service, as we honor and celebrate the life and legacy of Congressman John Lewis with our new Commemorative Forever stamp," said Tennessee District Manager Omar Coleman. "Congressman Lewis fits the most crucial objectives of our stamp program, which are to increase awareness and celebrate the people, places, and things that best exemplify our country."  Deputy Mayor Brenda Haywood told the audience about her childhood years as one who integrated Stratford School and how she lived in a neighborhood that was predominantly white. Therefore, seeing Rep. Lewis on television, during the march on Washington, then as a civil rights activist, she marveled at his drive for justice. "To commemorate this great man with a USPS stamp is an honor," said Haywood. 
In welcoming guests, ABC President Forrest Harris shared a story of Lewis's time as a student at the College, when he missed his own graduation because he and several classmates were in jail for protesting for civil rights in Hinds County, Mississippi. Harris read a letter that Lewis wrote to the registrar at the time, and noted how fitting it is that Rep. Lewis mailed the letter to the College more than 60 years ago and today has a stamp in his honor.
Former State Senator Brenda Gilmore chaired the Nashville Unveiling of the Rep. John Lewis Stamp. She praised the audience for their presence. "Rep. Lewis's work in civil rights showed his commitment to justice for all people and that he is most deserving of this USPS stamp," said Gilmore. The former Senator thanked the United States Post Service for making the Lewis stamp a "Forever Stamp" as we will forever remember the sacrifice and contributions of Congressman John Lewis in Nashville and this country, she added."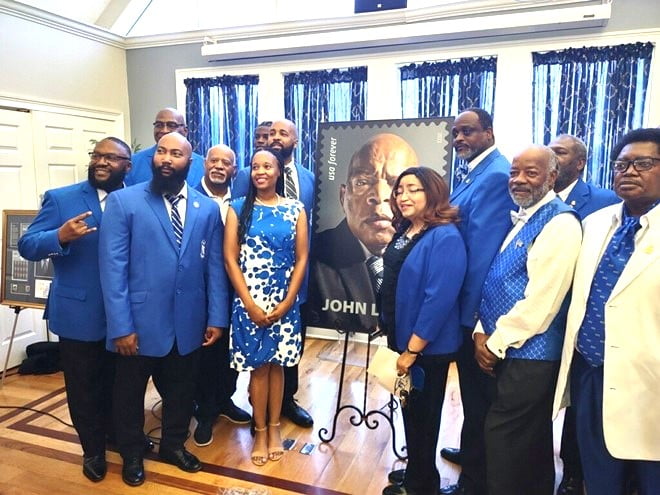 Jerrick Lewis, the nephew of Rep. Lewis, thanked the College and the Nashville Community for this continued outpouring of support for his uncle. "We appreciate you for keeping his legacy present in our lives." Members of the Lewis family could not attend the event and sent their heartfelt thanks.
Rep. Lewis came to Nashville to attend American Baptist College and graduated in 1961. He missed his graduation because he was protesting in Jackson, Mississippi for equality in public transportation. After graduation from ABC, Rep. Lewis moved to Atlanta and later returned to Nashville to attend Fisk University and earned another degree in 1967. "We are proud of our shared relationship with ABC for Rep. Lewis and the work he did to fight for justice in Nashville and throughout the world," said Fisk
University Distinguished Professor of Social Justice, Dr. Richardo Guthrie.  The Lewis stamp was made public on July 21. The ABC event was an opportunity for the city of Nashville to celebrate the occasion and his local ties. Sponsors included the U.S. Postal Service, the John Lewis Way Committee, and American Baptist College. The John Lewis Way Committee was established to hold a celebration following his death in 2020 and worked to get the downtown street named in his honor, and continues the celebration each year with his family in attendance.