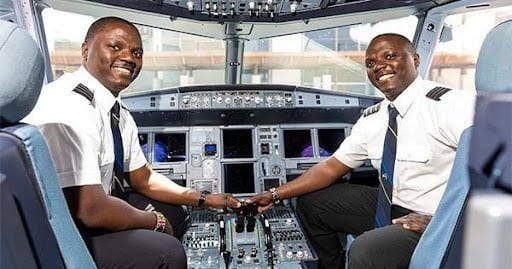 Nationwide — Identical twin brothers Alex and Alan have been hired as first officer pilots for Alaska Airlines in the US. Originally from Kenya, they are making history as the first set of identical twin pilots at the airline while making their dream to fly together come true.
Alex had been working at Alaska Airlines for quite some time before Alan, who previously worked at a regional airline, decided to join the same company his brother was working at after finishing his simulator training. The airline believes the recruitment of identical twin pilots is a first in its nearly century-old history.
Since the age of 3, Alex and Alan have been fascinated with aviation thanks to their parents. Their father used to take them plane-spotting every Sunday after church while their mother brought them along on every business trip via plane.
When the twins moved from Kenya to California at the age of 13, their passion for flying grew even bigger. To support their passion, their mother gifted them with a Microsoft Flight Simulator.
"After I started playing with the program, that was it. I knew I wanted to do that [fly] for a job," Alan told Alaska Air News.
Now, Alan will be based in San Francisco and Alex will fly out of Los Angeles. They are hoping they could someday fly the same aircraft together professionally, which they haven't done yet because of the complexity of the operations in the field.
"The goal is to have one of us upgrade to captain and be operating the same aircraft so we can fly together," Alex said.
They are also looking forward to having their mother on board when the time comes.