Mayor Tim Kelly welcomed Chattanooga native Jimmy Allgood to his office last week to congratulate him on winning two awards at the International Singer-Songwriters Association (ISSA).
Mr. Allgood's ISSA wins at the Sandy Springs Performing Arts Center in Atlanta on August 5 were a testament to his exceptional talent and the overwhelming support of thousands of voters from around the world.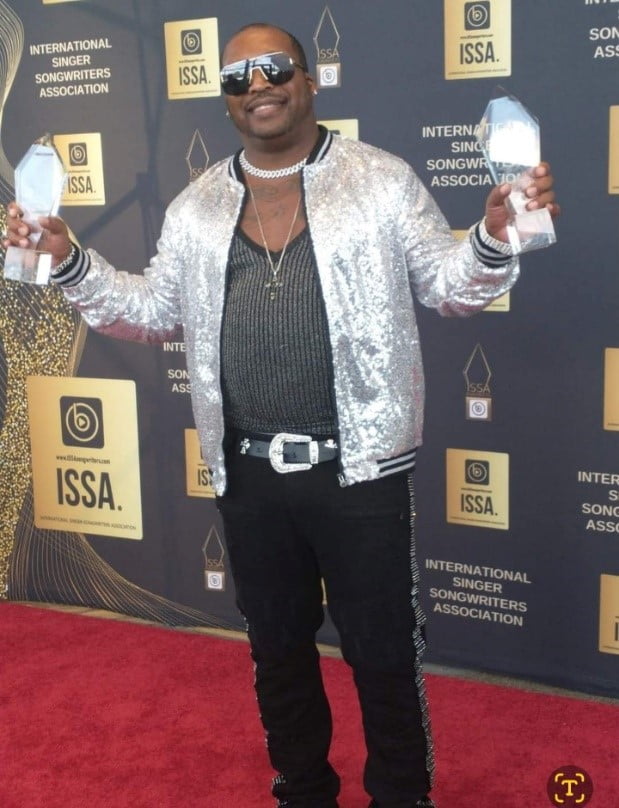 Nominated in April for three esteemed categories at the ISSA Awards, Mr. Allgood secured his place as a finalist in all three: USA Male Vocalist of the Year, USA Male Single of the Year, and USA Male Rising Star. The awards show, which took place at the same venue as the BMI Awards, proved to be an unforgettable night for the talented artist.
Mr. Allgood's hit single, Moving On, earned him the USA Male Single of the Year Bronze Award, while his exceptional vocal prowess led him to clinch the coveted USA Male Vocalist of the Year Gold Award, the highest honor bestowed at the event. This recognition not only underscores his remarkable achievements, but it also further establishes his position as a rising star in the music industry.
Tamanie Dove, a singer-songwriter from Nashville now based in Atlanta, founded ISSA to provide support to independent artists of all musical genres worldwide. The organization fosters the growth of aspiring and established singers and songwriters through a variety of programs and services, including education, promotion and networking opportunities.
Mr. Allgood's success is rooted in his passion for music and his journey as an artist. At 18, he was signed to a major independent label and has since shared the stage with Celo, Lo-Key?, and Xscape. He was one of the first African American R&B soul artists from Chattanooga to land a nationwide BET video.
Mr. Allgood's impact on the community extends far beyond his musical talent. Through his non-profit organization, Peace in the Streets, he has dedicated himself to addressing youth gun violence as a speaker. He has also been actively involved in the fight against hunger and worked to preserve the historical heritage of Lincoln Park.
In recognition of his many accomplishments, Mayor Kelly proclaimed March 26, 2022 to be "Jimmy Allgood Day."
Mr. Allgood expressed his heartfelt gratitude to the ISSA family, and thanked his friends, fans and followers. He said, "We did it! Without your support, I would not be here. I love each and every one of you."