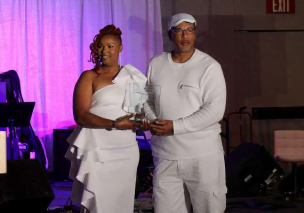 On September 10, 2022, People Staff, Inc.'s 4th Annual All-White Affair presented a Community Service and  Leadership Senior Excellence Award to Denita Strickland and Willie Kitchens, Jr. for their years of service in the community. The 4th Annual All-White Affair was at the Chattanooga Convention Center and included red carpet,  awards, and live music. Performing was Stephy J. Moore from Nashville, TN, and the headliner was award winning trumpeter Joey Sommerville featuring Sera Hill, season 2 contestant of the TV show, "The Voice". 
Ms. Denita Strickland, owner of Serenity Child Care I and II, is an active member of Olivet Baptist Church and has always exhibited her Christian beliefs and values. She and her staff lead "praise & worship" daily at Serenity Child Care.  
Serenity Child Care has been thriving successfully for over 20 years and has been featured on the local news for promoting education, growth and safety for the children in our city.
Denita is involved in several local ministries including SKIRTS. "Sisters Keeping It  Real Tight Spiritually". SKIRTS assists single mothers who are experiencing homelessness, financial hardship and promotes a better  quality of life. In addition, she helped develop the Chattanooga Area Child Care Support Group. This group assist owners and directors who are in the beginning stages of operating a childcare facility. 
She has provided resources to parents, collaborated with other agencies and local businesses to promote economic empowerment. Denita's giving spirit has made a positive impact on children, organizations, other businesses and the community. 
Willie David Kitchens, Jr. is known primarily because of his amazing vocals. Willie has been singing since the age of 7. He learned to play the guitar at the age of 10. Over the years he learned to play the harmonica, piano and electric keyboard. He has performed on Bobby Jones Gospel, at colleges and even prisons. 
Willie was the lead vocalist for the Impressions from 1999 to 2001. He was inducted into the Rock and Roll Hall of Fame in 2000. Inducted into the Vocal Hall of Fame in 2006, the Beach Music Hall of Fame in 2006,the Library of Congress as a History Maker in 2011 and this year he was given the 2022 South Eastern  Gospel Award.
Denita Strickland and Willie Kitchens, Jr. Receive Community Service Awards
As for his community service, in 1995, he created a traveling youth choir for ages 2 to 18 at the Bethlehem Center and he opened up and operated the Bethlehem Recording Studio where the choir recorded 4 albums there. The choir performed at the Capital and for Bishop Desmond Tutu.
Willie David Kitchens, Jr. is pastor of Bethlehem-Wiley United Methodist Church and is the worship leader at United Christ Methodist Church. He has created activities at the church which gives him an opportunity to serve the community, such as Jazz Fridays and a Valentine's Day Concert and Dinner. He has performed free of charge for events that benefitted the American Cancer Society, Blood Assurance and the Red Cross. Willie speaks at local high schools, churches and works with youth focused music programs. He is currently working with the Emerald Youth Foundation in Knoxville, TN with 80 students in the 2nd to 10th grades.